On-demand golf club rental
Anywhere in the United States


Easy
delivery
Tell us when and where you want the clubs. We deliver the clubs and make return a cinch via our partnership with UPS.
Top-of-the-line
equipment
Play with premium clubs delivered anywhere in the US, starting at $75 (day 1), $25/day (days 2-5), and $10/day (days 6+).
Hassle-free
golf
You focus on golf, and we'll handle the logistics. Own the experience, not the clubs.
Order your clubs in three easy steps

Select your gear    


Select your dates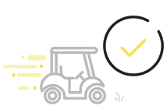 Checkout
An alternative to checking, shipping, and on-course renting